Our New Vision is LIVE!!!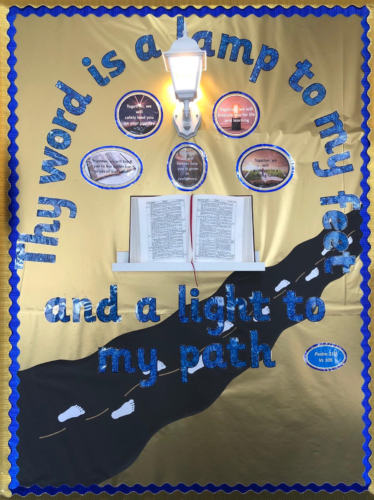 Summary statement of our Christian Vision
Our vision reflects a Christian understanding of God given to His people through His word revealed in the OT and NT and through the life and teachings of Christ.
Psalm 119 speaks both of the characteristics of the scriptures but is also affirms that God's word reflects the very character of God Himself. We read in the psalm of the following attributes given to God: Righteousness, trustworthiness, truthfulness, faithfulness, unchangeable, eternality, light, purity.
Our vision reflects the importance of both the individual and the importance of community. As people, precious to God, He provides a path for us to travel and has a plan for our lives. His word and guiding light lead us onwards into eternity.
Our vision reflects our belief about the world in which we live, that we do not travel it alone but are accompanied by God who enables us all to flourish, recognising our differences and responsibilities towards each other and our world, as we journey together.
Our vision is central in all our decision-making processes. We ensure that the decisions we make will enable our vision to be a living reality in all we do. We believe that high standards in all aspects of our lives, will only be achieved if we demonstrate the importance of living within the values of God's word, when children feel safe to journey towards success and when they are given the opportunity to grow in confidence.
We offer a creative and inspiring curriculum which is an expression of our vision in action and our monitoring and evaluation cycle ensures that we have robust and rigorous systems in place that measures the impact of our work against of Christian vision and distinctiveness.
Thank you to Rev. David (St Mark's) and Father David (Islington area Sub Dean) who both supported our launch with blessings and prayers.
It was a wonderful event with contributions from everyone. The singing was amazing and a great example of how well everyone already works together and how excited they are to be part of a new and inspiring vision.
http://www.st-marks.islington.sch.uk/wp-content/uploads/2019/03/New-School-Vision-V1.pdf
Please see link for the official launch, which includes pictures from the past showing the history and biblical roots of our school's vision:
http://www.st-marks.islington.sch.uk/wp-content/uploads/2019/11/Vision-Blessing-March-8th-2019-2.pdf
Please see link on how we promote Spiritual Development at our school:
http://www.st-marks.islington.sch.uk/wp-content/uploads/2020/10/SPIRITUALITY.pdf