MLK  day commemorates the life and work of Dr. Martin Luther King Jnr, who was a Baptist minister and prominent leader in the American civil rights movement. In  collective worship on Monday we discussed his life and encouraged the children to use the day to "reflect on the principles of racial equality and changes they might like to see.
We talked about his famous speech and the words within it..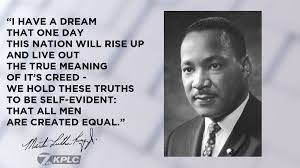 What do you dream of seeing?