Welcome to Spring Term in Coral Class!
Welcome Coral Class! I hope you've had a lovely Christmas holiday break. I am also very excited for the fantastic learning opportunities we've got planned this spring term.
Thank you for all the support given last term.
Our Enquiry Based Concepts this term is Migration around the globe creates a culturally rich society.
The curriculum will be delivered through the following topics: –
English
Our English core texts this term is 'The King who banned the Dark' by Emily-Haworth-Booth. The quality and rich texts will provide us the opportunity to teach literacy creatively and effectively. (This also links to our science topic this term).  All children will write their own persuasive speech, using a number of writing techniques and features. Children will also have the opportunity to practice and perform their speech.
Maths
This term, topics will include multiplication, division and area, as part of our yr 4 curriculum.
R.E
In R.E this term we will be looking at Hinduism, exploring this faith and their ways of worship.
Science
Our Science topic this term is, Electricity.  We will construct a simple electric circuit and record observations. We will also investigate different common conductors, whilst focusing on key scientific vocabulary throughout.
History
This term, children will have an opportunity to learn all about the Anglo Saxons. We will be exploring Britain's settlement by Anglo Saxons and Scots.
PHSE
We will be focusing on making correct choices such as, the effects and risks of drinking alcohol and why people choose to use them.
Computing
This term we will learn to create slides, insert and edit images. Also, there will be an opportunity for children to present their final slides to the class.
PE
This term we will doing Yoga with myself, every Friday. Basketball will be with Lance every Wednesday afternoon from 1.30pm. Please don't forget your PE kit.
Music
This term in music the children will be learning to play the Clarinet with Liam our visiting teacher, every Monday afternoon.
Spanish
This term every Friday we will be learning the different names of animals and understanding Spanish grammar in more detail.
Art
This term, Art will be linked to our topic of Anglo Saxons. We can't wait to show you our fantastic art work.
Class information
Homework will be set each Friday and is expected back on the following Wednesday. Remember to read and practice multiplication tables every night. Reading should be every day, minimum 20 minutes. Extra activities that could be completed at home are posted on the website to help support children's learning.
Have a look at our display below, showcasing our learning in English so far.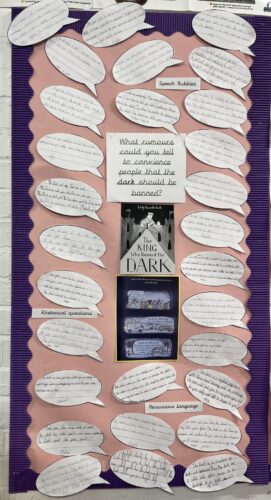 Year 4 – Coral Class Archives by Year