Enquiry Based Concepts
Our curriculum is underpinned by our core enquiry-based themes. These are strategically linked to our school vision, and the strands which permeate throughout our school. Our enquires are skills based in their purpose: developing research capabilities, garnering confidence in oracy skills, fostering strong social skills, prudent intra-personal skills and self-management skills, which they will take with them long after they leave our care.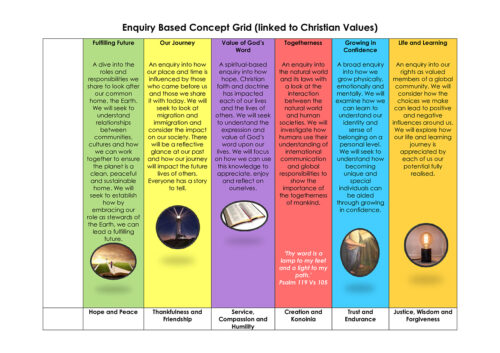 Concepts of Enquiry Content Grid
Each enquiry concept has been specifically created to reflect the nature of learning in each year group, which in turn link to the learning of each half term. The purpose of these enquires is to actively promote intellectual curiosity within our children and give them agency of their curriculum and its direction. Please see our enquiry based concept map below: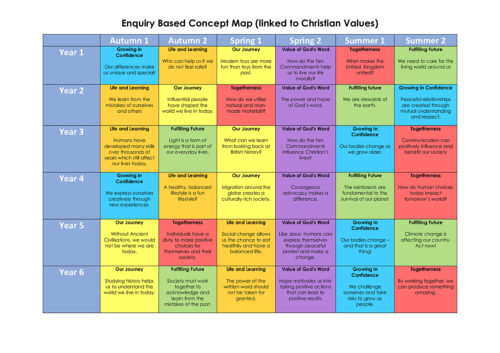 The enquiry-concepts are critical to the success of our curriculum. Through these concepts, teachers and pupils can debate and engage in topics, which can be difficult to discuss and delve into the open-ended nature of them. Our concepts are pivotal in ensuring progression and coverage of our curriculum and ensuring that every child has a voice on something they care deeply about. From racism, faith, ancient civilisations and toys to self-care and personal development, the enquiry concepts will ensure breadth, depth and a wide scope of the world and community we live in today, through the lens of a child. 
Curriculum Maps